We manufacture 2-pin power cords in varied lengths for various applications like DVD Players, Egg Beaters, Emergency lamps, Mosquito repellants, Table Fans, Table lamps, Coffee Makers, Popcorn Makers, DTH Set Top boxes etc.,
We use high quality raw materials like ISI Marked cables and quality certified Plastic/PVC resins for our production.
Pin Bridges and Skeleton form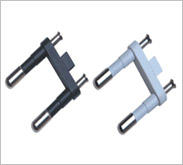 We can supply pin bridges which are used for the 2 core flat cable crimping.
We can also supply skeleton form of the power cord with the 2 core flat cable crimped with the pin bridge.
If you are a 2 pin power cord manufacturer, you can buy the skeleton from us and
make the final moulding in your factory for getting the end product.